Product development/quality management
Product development
Work in the Development Department is divided into two main tasks: the development of new products and the quality management of the products we manufacture.
Since the company was founded, we have been focusing on building up our know-how of product development, as the development of new products has a major impact on our business strategies and determines the future of our company.
Especially in the development of fish extracts, we have carried out trial productions and developed various types of extracts from Japanese oysters, using the technologies of extracting, enzyme degradation and membrane separation. Recently,
we have been developing extracts by using unused fishery resources, and liquid seasonings by using analytical data of amino acids.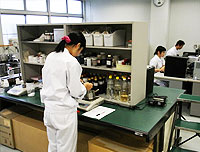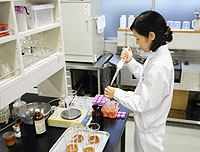 Quality management
Another essential task in the Development Department is quality management.
Products are manufactured every day in the Manufacturing Department under strict process checks in compliance with the ISO9001 quality manuals.
The Development Department integrates the final phase of checks, determines the criteria for quality management at the manufacturing line from the physicochemical and microbiological perspectives, and carries out lot inspections of all products we manufacture.
We also have the authority to judge the shipment of each product based on the inspection results and management information on manufacturing processes.
We also carry out time gradation tests and set appropriate expiry dates, assuming every possible condition that the products may be preserved under.